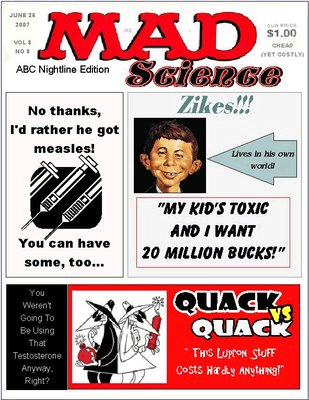 Mostly, I'm all for hyper-vigilant parents to raise their children as they see fit. Want to feed them nothing but hand-picked organic food? It's your pocketbook. Should they never lay a single precious eyeball upon an electric screen? They won't have anything to talk about at school, but not my problem. But one parenting quirk drives me into a frothing rage – refusing to vaccinate. That IS my problem. And it's your problem too.
There is a pernicious rumor that the standard childhood vaccines, especially the Measles, Mumps, Rubella (MMR) vaccine, cause autism. The link is supposedly thimerosal, a preservative used in vaccines that contains mercury. Now, dear reader, you might be thinking of my blog entry of yore, entreating people to dispose of their mercury-containing flourescent bulbs in the proper fashion since mercury is so toxic and all.
But there are crucial differences:
1) Methylmercury is the highly toxic form that accumulates in fat. This is what you get in by eating top marine predators, like tuna. Ethylmercury is the form in thimerosal, which does not accumulate in the body and is not known to be toxic.
2) The amount of methylmercury in ONE can of albacore tuna is ~85 mcg, according to Angry Toxicologist, who should know. The highest possible cumulative exposure to vaccine-related ethylmercury from birth to 7 months is 187.5 mcg. That's a little over two cans of tuna. Now babies don't eat tuna, but their mothers do, and there can be a whole lot of mercury in breast milk. That's bad, but it's not from vaccines.
Jenny McCarthy, former Playmate and MTV personality, is the latest spokeperson for the vaccine-autism connection. She said on Oprah:
"What number will it take for people just to start listening to what the mothers of children who have seen autism have been saying for years, which is, 'We vaccinated our baby and something happened."
Yes, something happened – your baby got vaccinated. Autism is a terrible thing, but all available evidence says that it is NOT caused by vaccines. The most compelling evidence comes from Denmark, which eliminated thimerosal from vaccines in 1992 but saw skyrocking rates of autism. (Here's a handy summary in Slate, and a detailed discussion of a recent NEJM study in Respectful Insolence.)
Like in HIV denialists, anti-vaccine activists want so badly for there to be simple, curable explanation for a horrible disease, but there just isn't. Again, like HIV denialists, many of the scaremongerers are also New Age Quacks that prey upon vulnerable, scared people. (Soaking your feet to remove toxins?!) However, the worst thing about this persistent falsehood is that it is preventing otherwise sane parents from vaccinating their children, driving up the price of vaccines due to lawsuits, and putting everyone else at risk. Has everyone forgotten that millions of children used to die from measles & mumps?
Now, the individual risk of not vaccinating your child is very low. But that is because everybody's else's children are vaccinated – and that makes parents who don't vaccinate low-down dirty freeloaders. When enough children aren't vaccinated properly, you get problems like last year's mumps epidemic in the Midwest, which was linked to the MMR vaccine-autism scaremongering. Fortunately, nobody died, but that's probably because the victims were college students, not babies.
Please, people, worry about the huge amount of methylmercury in seafood! It comes from coal-fired power plants, and dollars to donuts it's in your fat and bad for your baby. Worry about the E. coli in beef! It comes from cruel and repulsive factory farms that pollute our water and are subsidized by the government, and it ruin your child's kidneys. But please, PLEASE vaccinate your child and take mumps off the list of things to worry about.